Why Wool
Wool has been used for centuries. In prehistoric times wool was already used to make clothing, footwear, blankets and rugs. At that time people already knew how to use wool products. Wool was used against the cold, against moisture, but wool was also used against the heat.
Sheep wool is sustainable, has a long lifespan and is also animal-friendly. It will grow back on its own.
Wool has a spiral curl and therefore wool retains a lot of air and air insulates very well, it also keeps its shape and therefore also remains airy. It ensures a balanced body temperature. The wool ensures a constant temperature.
Another great advantage of wool is that it is water-repellent on the one hand and has a high absorption capacity on the other. Wool can absorb at least 30% of its own weight in moisture, without feeling damp and clammy. The absorbed moisture is slowly evaporated again, so that little or no cooling occurs.
You will not get sweaty feet in woolen slippers and/or slippers. Also check out our blog "why do you get sweaty feet".
Wool naturally contains lanolin, or wool fat. This makes the wool self-cleaning, bacteria-resistant and dirt-repellent. This is not a pleasant living environment for dust mites, which is why wool products are recommended for people who are allergic to dust mites.

Wool also has beneficial properties, it heals wounds in bedsores.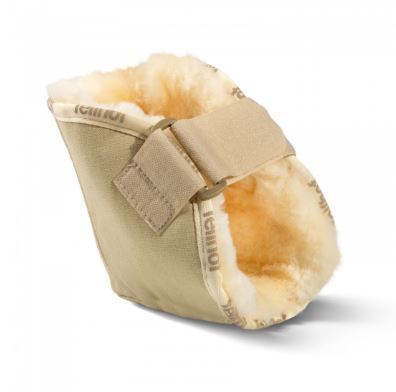 Wool is also often used for complaints caused by cold, it is not possible to get and stay warm, stiffness, sore throat, earache, back pain and bronchitis. Sheep's wool seems to activate the self-healing power of the body. In its range, Liebo has sheepskin knee pads, heel pads and ankle pads that contain these beneficial properties. Click here for our medical wool aids.
Another great advantage of wool is that wool is fire retardant. A wool fiber extinguishes the flame.
Because wool is fully recyclable, the environment is minimally burdened by the recycling of wool.
It is not necessary to wash wool, as it may lose its good properties. If it is necessary to clean, for example, a sheepskin, you can put it in the snow, if it is available. Woolen slippers or sheepskin slippers can also be placed in the snow, or you can wash them gently by hand with a detergent that contains lanolin. Do not wring out too hard, but squeeze out as much moisture as possible, then let it air dry, can take a long time, but certainly not in a dryer or on a heater. Do not use fabric softener.
Wool felted slippers, on the other hand, can be washed in the washing machine, on a special wool wash program also with a wool detergent with lanolin in it. Do not tumble dry, prefer to air dry.
Woolen clothes can be washed by hand with a wool detergent with lanolin or in the washing machine on a special wool wash program. Do not spin too long and too hard, don't use fabric softener here either. If necessary, let it dry lying down or on a hanger, rather do not use clothespins to get the woolen clothes back into shape. In our collection you will find wonderfully warm woolen Irish sweaters, cardigans and ponchos. Click here to view all our wool sweaters and cardigans.
For cleaning woolen duvets, we recommend that you have them chemically cleaned..